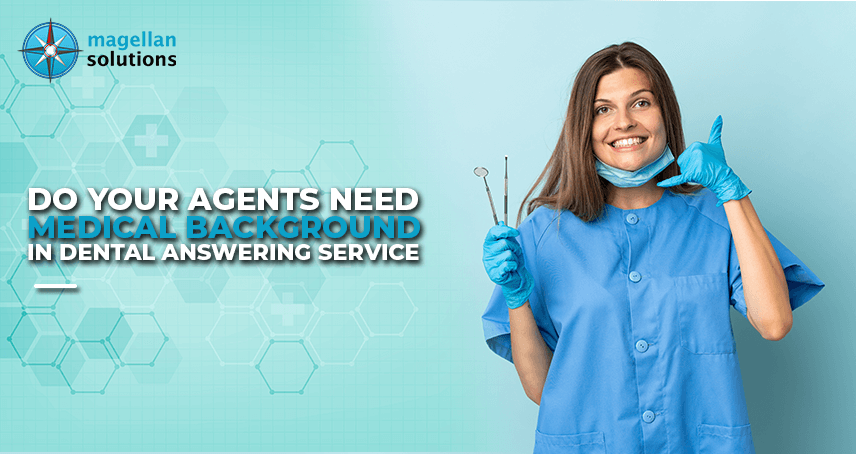 Patients calling your dental clinic deserve the best customer service anytime. There is no timeframe whenever accidents happen. That is why dental answering service is critical for every organization. 
Having your own live answering service is better than automated voice messages. Live operators can react based on the severity of the accident. More than 32% of calls for dental offices left unanswered especially after-business hours. Imagine how many prospect clients you can get when you respond to all of these inquiries.
Be that as it may, qualifications for dental answering service agents are still blurry. It is because many offices don't think it is necessary to get sophisticated when hiring a virtual assistant. Thus, many unfit contact support agents will answer patients who are in need of urgent assistance. And they might now be aware of how severe the situation is.
So, let us take a look at some of the importance of having an answering service agent with a medical background.
Agents Can Handle Emergencies Better
Some of the emergency calls won't happen during the day. In fact, 30% of oral emergencies occur after business hours. Unfortunately, you might not be around to attend to these situations. Therefore, your 24/7 answering service should have the knowledge to alleviate some distressing situations.
On top of that, they could also weigh whether the situation requires your expertise. They can call you immediately if they find out that a simple remedy is not enough to ease the patient's condition.
Superior Credibility
There is a tendency that you will lose customers if your virtual assistant has no idea about your services. 98% of patients have a bad impression of clinics that have poor telephone communication skills. Moreover, 71% of these people tend to look for another clinic after having a bad experience with their initial clinic.
That's why it's important to build credibility by having a virtual receptionist that can answer patients' inquiries ASAP. 93% of your patients would likely call your clinic again if your agent were able to solve their problem during the first interaction.
Knows the Urgency of Situation
Your service with your client won't stop after a check-up or a surgery. As a matter of fact, 78% of patients expect a follow up call after their oral operation. Your dental answering service can call these patients and ask for any post-surgery symptoms.
If your agent has no background in the medical profession, they can't qualify which symptoms are severe. They won't be able to forward which patient requires urgent medical attention. Thus, it will affect how people will look into your dental office.
Offers Better Insight for Your Operation
A dental answering service with a medical background can give you a better resolution for your operational challenges. It will give you a great boost on your customer service satisfaction. 62% of customers believe that agents' knowledge towards your service is the main key for a great customer satisfaction (CSAT) rate.
Having a medical professional to work for your dental answering service also helps in improving reviews for your clinic. These reviews will lead to recommendations from your former patients. 72% of your existing clients will likely recommend your service to 6 of their friends. That's a lot of clients for small and medium dental clinics.

Higher Retention Rate
Having an answering service is already a great leverage in terms of setting up an appointment with your clients. They can make a follow up with the patients and remind them about their upcoming check up with you. This makes up for the 40% of patients going to the clinic for appointments.
But, having an expert medical answering service can increase your effectiveness to more than 60%. They can convince those hesitant patients how important it is to take care of their oral health. The fact that they are also from the field of healthcare is an added factor to persuade patients to go into their check up.
Better Patient Relationship
In a recent study, 83% of American adults see oral health as their top priority. These data should be your engine to improve your relationship towards your existing patient. They can be your long term partner. However, maintaining a good bond with them requires tremendous effort from your dental answering service.
It will be easier for agents with medical background to build connections with your clients. They already have experience interacting with patients. These patients require extensive care which they can only get from expert medical professionals.
Building empathy with these patients is the most important thing to do to improve your relationship with them. 46% of your callers just want someone to listen to them before providing a solution. It is critical since you need to get all the information first before concluding about the patient's condition.
Best Dental Answering Service Provider in the Philippines
If you  are a small or medium dental office looking to outsource answering service then to go Magellan Solutions. We have more than 17 years of experience providing BPO needs of SMEs in US, Asia, Australia, and Europe.
We are an ISO certified BPO company that strictly follows a high standard of service from recruitment to on-boarding process. Our team makes sure that only qualified applicants should proceed with our training program. Qualifications include experience from the industry they will work on like medical background or training for your dental virtual receptionist.
Magellan Solutions is also a HIPAA compliant to ensure the total protection for your patients and prospect clients. We will secure all the information that you will give to us as we have the top of the line technology to prevent data breaching and phishing schemes.
Our Business Developers can help you in setting up your key performance indicators (KPI). KPIs will guide you and monitor the progress of your business with us.
We also offer guaranteed flexible pricing options based on several factors like service and number of agents you need. Magellan Solutions understands that start-up businesses have limited funds in outsourcing services.
Contact us today and get a free 60-minute business consultation. Please fill out the contact form below.
TALK TO US!
Contact us today for more information.